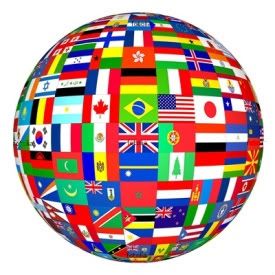 If there's one topic (besides the whole A5 issue) that's been raising the ire from just about everyone we speak with these days, it's the whole territorial restriction thing. The vitriolic feedback we've been getting from many of those who've been unable to purchase the eBooks they want to read, in the country of their choice, really drives the point home that all is not well with the state of international eBook marketing.
So, we ask ourselves: "Selves, why the heck would someone trying to sell something make it so hard for someone else trying to buy it?"
The only thing that's pretty clear is that nothing at all is very clear. Basically, confusion reigns supreme. Here is just a small sampling of the barrage of questions we've been getting from many of our very smart and insightful customers…
Why are publishers willing to limit their sales by imposing territorial rights?
What were territorial rights intended to do? What is the advantage to a publisher?
Is it different international market pricing models that prompt territorial restrictions?
Why are publishers willing to risk the subsequent alienation of customers because of digital strategies such as territorial restrictions?
Since eBooks are digital and thus, due to their inherent nature, know no boundaries. Then why do many publishers enforce territory?
So, what's going on here? Is there some sort of nefarious, grand A5 conspiracy out there? Although that would be fairly cool, we'll put away our tin foil hats for now. We're afraid that the answer is not quite as exciting as that. To help us get to the bottom of the territorial rights conundrum, we did what any sensible eBook retailer would do – we asked someone else.
Yup, we reached out to one of our esteemed industry colleagues, for some much needed elucidation. The lucky winner we picked to educate us is none other than Richard Curtis of Richard Curtis Associates, Inc. Richard is a leading New York literary agent and well-known author advocate. He is also the author of numerous fiction and non-fiction works, including several books about the publishing industry. Not to mention, Richard has a great blog, found here.
Here's what Richard thinks…
First off, and most importantly, the old world of publishing is having major issues adapting to the new one. Both have many things in common, but in some instances the digital format just doesn't fit over the print model. Territory is one of those cases.
In the pre-digital days the publishing world was divided into territories characterized almost entirely by language. "Almost" because there were a number of subdivisions of language. For example, the English language was divided into two mutually exclusive territories: United States/Canada and United Kingdom/British Commonwealth. Spanish was divided into Spain, on the one hand, and Latin America on the other. Portuguese was divided into Portugal and Brazil.
In many cases, a publisher in one of those territories would acquire worldwide rights in that language and that solved the problem of competing editions in the same language. In other cases, there were restrictions that the US/Canada edition could not be sold in England and vice versa.
When digital books were introduced, publishers maintained the same territoriality failing to realize that the barriers – and the cost of penetrating those barriers – had fallen. Yet the publishers, in all their infinite wisdom, still jealously guard those territorial rights – even at the risk of alienating customers.
There are a couple of other factors at play in the territorial issue. One is technology – some foreign nations just don't have an adequate wireless network to accommodate devices like the Kindle. Another is foreign statutes: Some nations have restricted or banned devices on a variety of grounds, making it hard if not impossible for their citizens to access e-content.
According to Richard, that's where we are today. Essentially, the issue remains unresolved. Perhaps the industry will get its act together in the future but, for now, the US electronic book stops at the shores of England, or at least it's supposed to.
So, it's as we suspected. When it comes to international rights, the publishing sphere is still acting like an old, over protective, territorial guard dog. Hey, guys…it's a big interconnected, digital wonderland out there. The world is getting smaller by the day. Isn't it time you let go of your self-imposed shackles and act like the progressive, visionary industry you should really be? C'mon, kick off your shoes, undo your belt a couple of notches and give it a try. You might actually like it.
As always, you know where we stand.