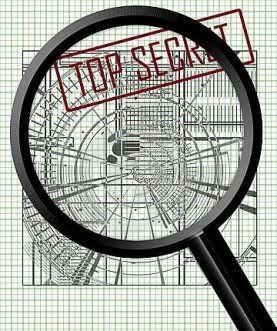 Imagine for a second that we did something underhanded. Something kinda terrible. I don't know, maybe our fearless leader, Scott, decides to hack into Amazon's digital warehouse to steal some of Jeff Bezo's trade secrets.
One of us (you'll have to guess who), was actually involved in a real-life scenario just like the one above when working for a major player, a few years back. Yes, it does happen more than you think. Enough said about that, for now.
Now imagine that, after the fact, Msr. Assange and his Wikileaks "public information service" get hold of an encrypted message from Scott laying out the plan to some of his hacker buddies, in Indonesia.
Because the whistleblower is Kelley (her conscience got the best of her but she fesses up to Scott), Scott knows for sure that the "Federales" will be flying down to Richmond any day – and that the news of his impending arrest will soon be worldwide news.
"Diesel chief steals Amazon secrets!" will scream the headlines.
Now that the cat's about to come out of the proverbial bag, what's the first thing Scott should do?
Flee to Costa Rica?
Change his identity?
Get expensive cosmetic surgery?
Fess up and accept his fate?
Nah, if he's Brian Moynihan, the CEO of Bank of America, he gets proactive and goes on a buying spree of domain names, just so that he can protect his own good name.
In the past couple of weeks, you see, Mr. Moynihan and his cohorts have been snapping up every possible negative domain appellation that can be connected to Bank of America.
So far, they've registered BrianMoynihanBlows.com, BrianMoynihanSucks.com, BrianTMoynihanBlows.com, and BrianTMoynihanSucks.com.
It doesn't end there. According to Domain Name Wire, Bank of America has been registering hundreds of similar domains for its CFO, Chairman of the Board and other assorted Board members.
Why, you ask?
Well, apparently there's some major negative revelations about Bank of America that are about to come down the pipe, courtesy of Wikileaks.
Although we can't imagine it'll be anything as juicy as the little fictitious scenario we set up above for the sake of comparison and fun, it should nonetheless be pretty elucidating if we go by some of the most recent allegations against BoA.
Not that it should come as any surprise, these days. Banks you know. I think we all pretty much feel the same way about them…unless we're bankers, of course.
Assange is on record as saying that "heads will roll" on this one. Judging by the preemptive knee-jerk reaction from the players in question, through, it seems like they're more worried about bad PR than going to the slammer.
What's fascinating about this, again, is the marketing angle of the whole business. Your company is about to be exposed for doing something way fishy, and what's the first thing you do? You launch an image damage control campaign, aimed at preventing bad word of mouth about your so-called leaders. Really genius. Shows you where priorities lie.
For months now, we've been railing against dishonest corporate practices and less than stand-up marketing ploys. This example combines both in stellar fashion.
But back to Scott. If he ever really does consider hacking into the competition's servers (ha!), he may want to follow Moynihan's example by registering some domain names of his own, right now.
I suggest TheDieselBlogBlows.com as one of the first to be protected.