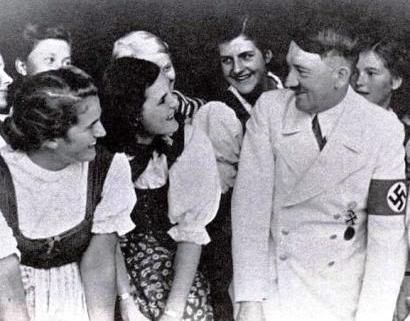 There are a couple of new books out that unearth a few more of Adolph Hitler's world class psycho-follies.
One, called "Amazing Dogs: A Cabinet of Curiosities", reveals that the Third Reich had seriously tried to teach an army of dogs how to talk, read and write. Yup, you read that right. Not content with just experimenting on human beings, they were also trying to get canines to verbalize how they felt about religion and poetry. Really.
As wacky as that whole concept may seem, the claims in the second book really got our attention. "Mussolini's Barber" contends that the Nazis, under a program called The Borghild Project, had successfully created extremely advanced, and anatomically correct blow up sex dolls called "gynoids".
Why you ask? To give them to those valiant soldiers on the front lines who were dropping dead in droves from sexually transmitted diseases contracted from the women they conquered (in more ways than one). French prostitutes, it seems, were some of the main culprits.
Beyond the Time article we link to above, here's an added bonus that a friend of ours dug up (and that you won't find referenced anywhere else) – a German journalist's website that gives quite a bit of detail about the whole thing. Click on the Deutsch link as well, and you'll be treated to a couple of great pictures that don't appear in the rather awkward English translation.
Okay, enough about Nazis, sex and dogs for one day.
'Til tomorrow's post, auf wiedersehen.