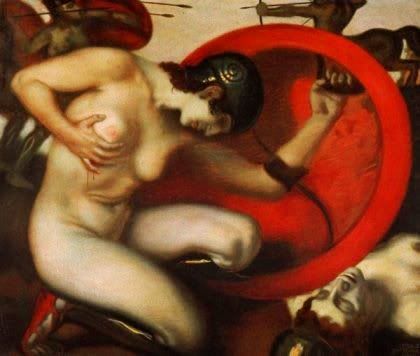 Although Amazon is supposedly named after the river in Brazil – the world's longest – I can't help thinking, every time I write about the company, that it should've been named after the fierce female warriors from Greek mythology, instead.
Like Google, Amazon wants to aggressively take over the digital world. In fact, it's going about it with a no-holds barred, take no prisoner business model.
A pair of recent developments make that fact patently clear. First, as of a couple of days ago, the Kindle eReader went on sale at Toy R Us stores across the nation. We're kind of split on this move. We dig the idea of turning kids on to the world of books early, obviously. But the calculated "get them while they're young" marketing patina to the whole thing smacks of opportunism. We're purists that way.
And the word is now out that the company is coming out with a tablet computer in October, to ostensibly compete with Apple's Ipad. This is partially about content. Amazon sells a lot of it, besides eBooks. It would be nice if it could deliver the hardware to go w/it. Makes sense, if you're as ambitious as Jeff Bezos seems to be.
Plus, the fact that it just inked a deal with NBC to stream part of its Universal Pictures film library indicates that it wants to go mano-a-mano w/Neflix as well. Oy. They really have no limits.
Amazons (the warriors) used to supposedly cut off their right breasts so that they could use a bow and throw spears more freely. It's evident that Amazon (the company) would figuratively cut off its right arm if it could overtake Google and Apple in all things digital.
Overreach, in business, can easily bring about disaster. But, we don't really have a dog in this fight so we say…Godspeed to them.
Image: An Amazon, by Franz von Stuck (1863-1928)