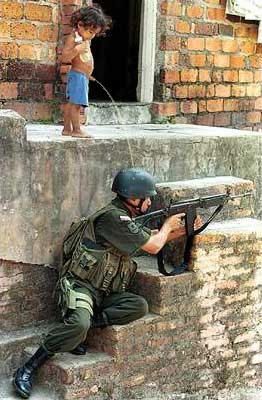 All innovation aside, like any corporation, Apple's prime directive is to make as much money as it can.
Which is why, at the beginning of the year, the company nixed the "shop" button from any iPad app in its store. That's right. You wanna buy? Well you can't. At least, not directly from the source. It's their house, so if Apple wants to make 30% (yes, 30) on any transaction that comes through it, it's their capitalist prerogative.
Extortion, anyone?
We got an app for that.
Amazon (and other publishers), of course, were none too happy about the monopoly Apple had just created. Nonetheless, gun to their temples, they all acquiesced.
As it turns out, Amazon had quite a trick up its sleeve. In an "Oh yeah?" type of response, it just revealed to the world that it was bypassing Apple altogether by going to the cloud, with a brand new, free web-based app called the Kindle Cloud Reader. Essentially, anyone can now purchase and read Amazon books on the iPad – w/o having to get the Kindle app from Apple.
"We got your app right here!"…as they would say in that weird country called Brooklyn.
Ironically, what makes the whole story especially interesting is that the technology that's making it possible for Amazon to stick it to Apple is the same technology Apple had thoroughly embraced for the iPad, at the expense of Adobe Flash – pissing off a lot of people/companies dependent on Flash along the way. If you haven't heard of it, it's called HTML5, and you'll be seeing a lot of it real soon.
Anyway, expect more twists and turns in the coming months, in this entertaining little battle of the tech titans.