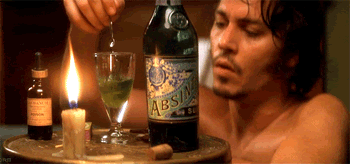 Ah, absinthe.
The name alone conjures up images of bohemian cafes by the Seine, on Paris' left bank.
"La fée verte" (the "green fairy"), as it was known in literary circles, has its place firmly marked in the pantheon of art and literature. If it wasn't for absinthe, some claim, the Impressionists wouldn't have made any impression at all.
Although a legendary muse for the senses, absinthe can't possibly be the only drink that's associated with authors (Hunter S. Thompson comes to mind) and books, now can it? Of course not. Writers and alcohol go together like…well, writers and alcohol (ahem, yours truly excluded).
This is a fun piece from Huff Post about cocktails in literature. And here's another.
But this one is especially interesting 'cause it matches famous writers to their actual, preferred drinks.
Here's a quick breakdown of who is associated with what:
1. Ernest Hemingway – Mojito
2. Raymond Chandler – Gimlet
3. Hunter S. Thompson – Chivas Regal
4. William Faulkner – Mint Julep
5. Jack Kerouac – Margarita
6. Dorothy Parker – Whiskey Sour
8. Carson McCullers – Sonnie Boy
9. Charles Bukowski – Boilermaker.
10. F. Scott Fitzgerald – Gin Rickey
11. Tennessee Williams – Ramos Fizz
12. Dylan Thomas – Whiskey
13. Anne Sexton – Martini
14. Eugene O'Neill – Gibson
15. Raymond Carver – Bloody Mary
16. Anthony Burgess – Hangman's Blood
17. William S. Burroughs – Vodka and Coke
18. Sherwood Anderson – Old Fashioned
19. James Gould Cozzens – Black and Tan/Half-and-Half.
20. James Jones – Singapore Sling
But do read the entire article if you want to know a little more of the back story behind each cocktail and scribe. There are few legendary tales there – like the one of Dylan Thomas meeting his maker after downing 18 straight shots of whiskey at the White Horse Tavern, in NYC.
Okay, needless to say, writing this post has made me pretty thirsty. Since it's Friday afternoon, please forgive me as I take my leave to head straight for the cocktail shaker.
And what will I my drink of choice be (you may be thinking)?
Well, Irene the hurricane is heading my way, so I think I'll probably start w/number one on the above list and work my way down as I ride out the storm.
I may not get much writing done this weekend.
Cheers!