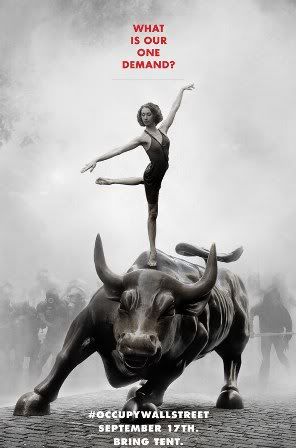 As if the occupation of writing wasn't already demanding enough to keep writers occupied, thousands of them, literally, have now lent their collective pens to the occupation of Wall Street and the 99% movement that stands behind it.
At www.occupywriters.com, you'll find the likes of Maureen Miller, Judith Butler, Salman Rushdie, Lemony Snicket (Daniel Handler), and many, many others, adding their literary voices to the cacaphony of discontentment with the status quo that's currently sweeping across the planet.
Whether you agree or not with those blowing the winds of change (and you may not, if you happen to be part of the 1% or the banking industry's upper echelons), it's obvious, as I've addressed before, that there's a bug in our current cultural OS. Let it never be said that we don't have an opinion…on just about everything (well, maybe except for the Kardashian divorce).
The writers found on the site all address the salient issues relating to the "problem" in a variety of creative ways. You'll find diatribes, exposes, essays, poems, free associations, and this list of trenchant observations by Lemony Snicket, that's been picking up quite a bit of attention. It's definitely worth a read.
Since much of the discord seems to be directed at the large financial institutions whose shenanigans are being blamed for most of the middle class' economic ills, we would be remiss not to inform you, in the context of this post, that today – November 5 – is Bank Transfer Day.
If you weren't aware of it, consider yourselves informed.
(Image: Original OWS poster by Adbusters.)