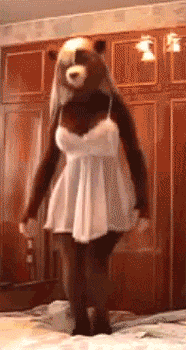 If you've never heard of Furries (with a cap "F"), that's okay. Not too many people have. Unless you're someone with a sociology background who makes his living observing, and writing about, human nature, you'd have no reason to. But, if you're into sub-cultures and the quirkier aspects of our species (and what makes it tick), you may want to read on.
Furries are anthropomorphic beings – animals with human characteristics, and vice versa. There are books, usually in the sci-fi genre, with Furries as characters. For the purposes of this post, however, I'll concentrate on the real people who like to dress up in fuzzy animal costumes that make up the Furry category. They do so for various reasons. Some of them are overtly sexual, others are a bit more esoteric – like getting in touch with one's "animal nature."
As obscure as the whole human Furry phenomenon is, it's surprisingly well organized. There are, for instance, several large international Furry conventions every year. Here's one in Germany (of course) called Eurofurence. It's an odd enough (and interesting, at least to me) scene that I had a documentary in pre-development a few years back about the whole topic. Here's the poster…
(If anyone w/deep pockets out there wants to help finance it, get in touch. Ha!)
Harley Moore over at our sultry sister site – eBook Eros – has a great post on Furries, this week. And here's a page that'll give more info. about the subject than you might care to know.
My last name in Portuguese means rabbit. That could be one of the reasons I have a passing interest in Furries. Or not. In any case, as much fun as it would be to some of my friends, you'll never catch me dressing up in a big, blue bunny costume.