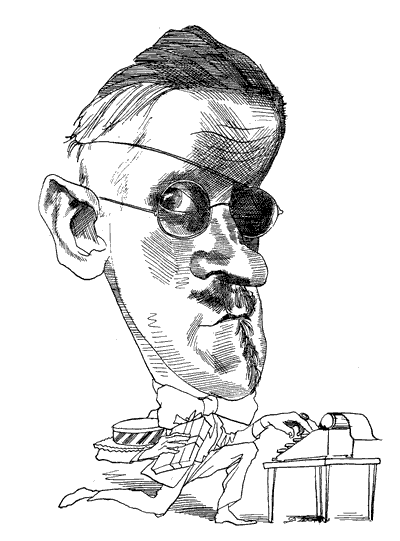 Unless you're some kind of angel, I'm sure you've hurled a good insult or two at someone in your lifetime. Almost everyone has. And, although we can be consumed with guilt after the fact, for a fleeting moment it ranks as one of the most satisfying things one can possibly do.
Of course, there's a dark art to coming up with good, snappy insults. Some of us are better at it than others. Take accomplished writers, for instance. In this post , I presented a number of delicious affronts uttered by some of the best scribes out there. These guys were masters. But these examples are personal ones. So, what about insults in the context of the stories they, and others, created?
Wonder no more. Here's a great list of the 50 best literary insults found in modern literature. The format of the article/slideshow is a bit unwieldy, so allow me to highlight my favorites of the bunch, below. However, do, by all means, read the others. They're definitely worth the time to navigate the slideshow.
A Confederacy of Dunces, John Kennedy Toole
"This liberal doxy must be impaled upon the member of a particularly large stallion!"

Matilda, Roald Dahl
"You blithering idiot! … You festering gumboil! You fleabitten fungus! … You bursting blister! You moth-eaten maggot!"

Timequake, Kurt Vonnegut
"If your brains were dynamite there wouldn't be enough to blow your hat off."

As You Like It, William Shakespeare
"I desire that we be better strangers."

Who's Afraid of Virginia Woolf, Edward Albee
"In my mind, Martha, you are buried in cement right up to your neck. No… right up to your nose… that's much quieter."

The Importance of Being Earnest, Oscar Wilde
"I never saw anybody take so long to dress, and with such little result."

Breakfast At Tiffany's, Truman Capote
"It should take you about four seconds to walk from here to the door. I'll give you two."
And, here's perhaps the most inventive insult of all (leave it to Joyce.) The first line is kinda of infamous. The third, not so much. If it isn't obvious to you, do take a couple of secs w/it.
Ulysses, James Joyce
"If you see kay
Tell him he may
See you in tea
Tell him from me."
'Nough said.
(Image: James Joyce.)